I can't believe that our little Drew Bear is 1. (Drew Bear is the nickname Addison gave Drew.) This year has flown by and we have loved every minute with our little Drew. Drew is the sweetest little baby and I love her easy going personality(she rarely gets upset). We feel so blessed to have her be a part of our family.
Here are some things about Drew at 1.
She army crawls everywhere. Just this week she finally has started to crawl and pull herself up to the furniture. She likes to stand and her favorite place to stand is by the stairs. She gets really excited for breakfast, lunch and dinner, she loves to eat, and will pretty much eat anything we are eating. She likes music and she will start to bounce to the beat. Whenever she thinks she is funny or does something funny she will put her hand over her mouth. She loves giving us hugs. Drew loves to wave. She still is a really good sleeper, she sleeps in until 9:00.
Here is how Drew is measuring up these days.
Height: 29 inches (50%)
Weight: 18.13 (15%)
I was a little surprised to see that she was still under 20 pounds.
Tim says with those checks how could she not weigh more.
Here are just a few pictures we took of Drew.
As you can see she is still not loving the bows.
Now on to her party.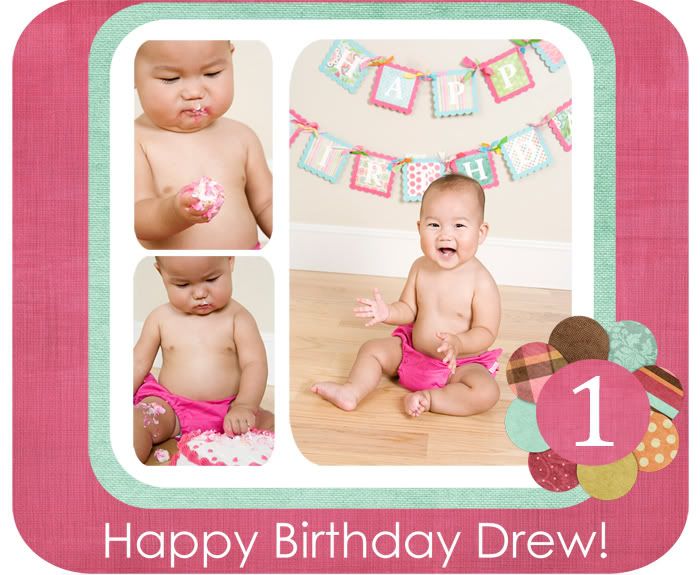 This year since we were at Bear Lake on Drew's actually birthday I decided we would celebrate it with family when we got home that following Monday. Since my mom's birthday was Monday I had asked her if she would mind sharing her birthday with Drew. She was excited and thought it would be fun to share her birthday with her. I had set everything up at my parents for a little dessert for their birthdays.
Happy Birthday Mom and Drew!